Since the inauguration of Donald Trump as President of the United States, I have been to 2 protests – the Women's March in San Francisco and a "pop up" protest at the San Francisco International Airport. As of this writing, this amounts to approximately 1 protest every 5 days. I don't even clean my bathroom once every 5 days, but perhaps this is an indication that I should clean my bathroom more rather than protest less.
Unlike the Women's March, the latter protest was a sudden occurrence. I received a text message call for participants, which was almost lost amid correspondence from the Bitmoji machine that is my mother. There was little time to prepare, so my partner and I made the decision to hop into our car and drive to the arrivals section of our airport's international terminal – a drive fueled less by anger and more by an acute determination to not be silenced over the next four years.
My biggest non-political takeaway from the last two weekends of rallies is to always be prepared with snacks, water and a noisemaker – a drum, a protest kazoo, or that plastic recorder that you played the hell out of in 3rd grade music class. Finally, always bring a sign, your best god damn sign game, and your best god damn penmanship.
With the frequency of these protests on a broad scope of issues, I've decided to create a series of generic signs that I can reuse: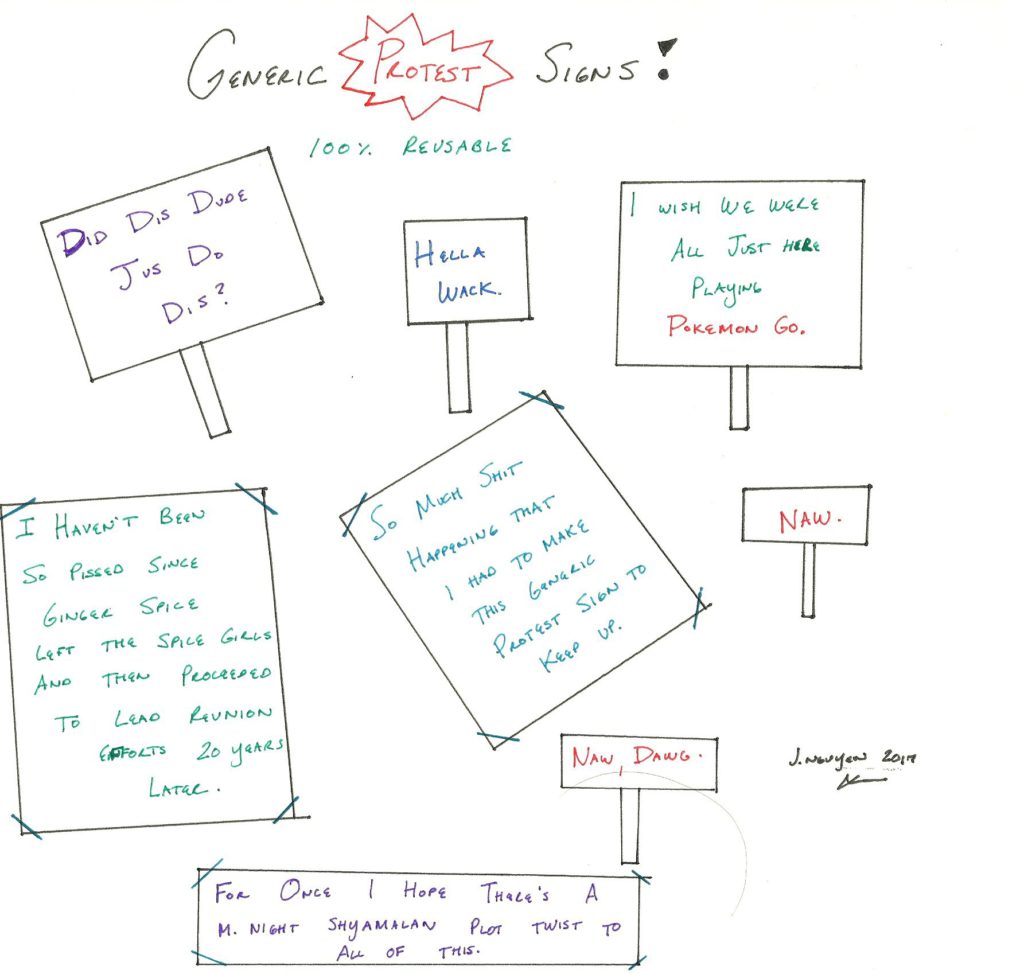 Clockwise from the left:
HELLA WACK.
I WISH WE WERE ALL JUST HERE PLAYING POKEMON GO.
NAW.
NAW, DAWG.
SO MUCH SHIT HAPPENING THAT I HAD TO MAKE THIS GENERIC PROTEST SIGN TO KEEP UP.
FOR ONCE I HOPE THERE'S A M. NIGHT SHYAMALAN PLOT TWIST TO ALL OF THIS.
I HAVEN'T BEEN SO PISSED SINCE GINGER SPICE BROKE UP THE SPICE GIRLS AND THEN PROCEEDED TO LEAD THE REUNION EFFORTS 20 YEARS LATER.
Additionally, if I am feeling particularly specific in my signage, my partner put a poster creation kit in our car – an old blank poster board, painter's tape, markers, and a handful of political pins. I don't even have an earthquake kit despite the fact that there is a 37% chance that a 6.7 magnitude earthquake will occur at the fault line closest to my office within 25 years.* Should there be an earthquake, at least I can make a sign.
—
Editor's Note:
*Thanks to the geologist who made an appearance at our university's emergency preparedness meeting this past week for this reminder.